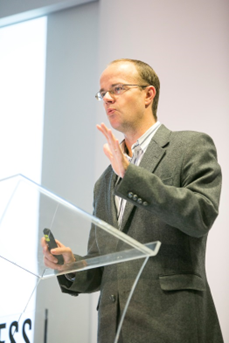 Simon Gear is an environmental and science correspondent.  He was a science and weather correspondent with Primedia Broadcasting (Talk Radio 702 and 567 Cape Talk) for 16 years and was an anchor presenter and scientific advisor on the award-winning environmental magazine show, 50|50 on SABC 2 for four years. Before that, he had spent 12 years as a broadcast meteorologist on the SABC. In addition to his media work, he is an air quality and climate change scientist and has worked on a wide range of private and government projects. Simon currently works as a research analyst for the University of Pretoria.
Simon works as a professional speaker and MC, focusing on various environmental, sustainability and climate change related topics, and thoroughly enjoys bringing his passion for science and the environment to the fore at functions.
Simon's Masters in Environmental Science focused on corporate environmental practice. His dissertation assessed the presence of environmental reporting in the annual reports of South African listed companies
MC: especially green- or science-themed events.
Keynote addresses: Sustainability, green business, climate change, bird conservation and general science-related topics.
Courses: Compiled and presented courses on air quality management, climate change, carbon accounting and corporate sustainability
Simon is an accomplished writer. He has written monthly columns for Runners World SA, HighLife and Khuluma magazines and his first book, 'Going Green' (Penguin), is a South African bestseller.